At the moment I am prepping for our new summer mid-week here at IGNITION (Daybreak Church's Jr. High Ministry) and a few youth ministry related ideas are bouncing around in my head. Here they are in no particular order!
-YOUTH MINISTRY INSTAGRAM ACCOUNT. We are going to be playing around with this idea beginning this week. We have opened up an INSTAGRAM account for our youth ministry and we are going to begin taking photos and letting our students submit photos as well. 
-STICKY FAITH WITH VOLUNTEERS. This summer our volunteers are going to be studying through my friend Kara Powell's book "Sticky Faith: Developing Faith That Lasts In Teenagers". We will be reading a chapter every week and discussing it together to find ways to create a multi generational model of youth ministry at our church. 
-NEW STRATEGIES TO STOP STUDENTS FROM SLIPPING THROUGH THE CRACKS. We are going to be implementing some new assimilation techniques this summer to make sure that every student in our ministry is known by name by a caring adult in our ministry. This summer will be the summer of relational youth ministry.
-SYMT TOOLS. This summer we are going to really dig deep and learn as much as we can about utilizing our SYM Tools software. Check it out today! It's the best out there. 
Today I sat in on part two of Kara Powell's Sticky Faith seminar based on her book "Sticky Faith: Practical Ideas To Nurture Long-Term Faith In Teenagers" and it got me thinking about my own youth ministry experience as a student growing up. When I was in jr. High and high school my experience of youth ministry was very different from what most youth ministries look like around the country today. Here is a snapshot of my experience of youth ministry as a teenager:
YOUTH MINISTRY OCCURRED ORGANICALLY EVEN BEFORE A FORMAL PROGRAM WAS INTRODUCED. Growing up, my church was not a large church. My church growing up wasn't even a medium sized church. My church growing up was small! In fact, on our biggest day I think we tapped out at about 150 people. What I remember most about my old church was that it was one big family. We knew everyone in our church. Our friends were all from church. Our families all hung out and took trips together. And I remember learning about Jesus from a variety of different adults in our congregation from all walks of life. Even though we had no formal "youth ministry program" at first, our church welcomed teenagers as a real part of their community. We would go to the adult services with our parents and attend all-church BBQ's together as one big community. Relational youth ministry naturally occurred because the adults in our congregation knew that it was their responsibility to care for, mentor and disciple the teenagers in the congregation.
YOUTH MINISTRY PROGRAMS NEVER BECAME A SUBSTITUTE FOR BEING ACTIVE IN THE LARGER CHRCH COMMUNITY. Eventually we had a youth program at the church, but these programs (midweeks, bible studies, etc) never became a "para-church within a church". Teenagers didn't have separate mission trips from that of the larger church, we just came with the adults on church wide trips. We didn't have a bunch of separate fellowship events apart from the adults, but instead joined with the larger church to experience everything as one big church family.
In the Sticky Faith study, Kara and her team discovered that about 40-50% of youth group attending teenagers end up walking away from the faith after they graduate high school (click here for more information). At Sticky Faith, they postulate that perhaps one reason students leave the church after high school is because they were never really apart of the larger church, but instead have been segregated from the rest of the church by creating youth ministry programs that separate teenagers from the rest of the congregation. So what does this mean for our current youth ministry programs? Does this mean that we need to abandon current youth ministry models/programs or stop doing youth ministry all together? I don't think so at all…BUT…I do think that as youth workers we need to find ways to build an intergenerational model into our church's DNA. Here are some practice ideas:
1) Have an adult men's small group at your church invite the 6th grade guys over for a BBQ one night.
2) Ask your women's ministry leader to sponsor a "Girl's Night Out" event where they invite the high school girls to join them for a fun activity with the other adult woman at your church.
3) Grab a few students from the youth ministry and have them help lead worship on a Sunday morning
4) Create a family event at your church where teenagers and adults can have fun and fellowship together as one big community.
5) At your church's next men's retreat, have the adults invite the jr. High or high school guys to come with them and learn/grow together.
What about your church? What simple things could you do to build an intergenerational model into your current youth ministry DNA? Share your ideas in the comments section below!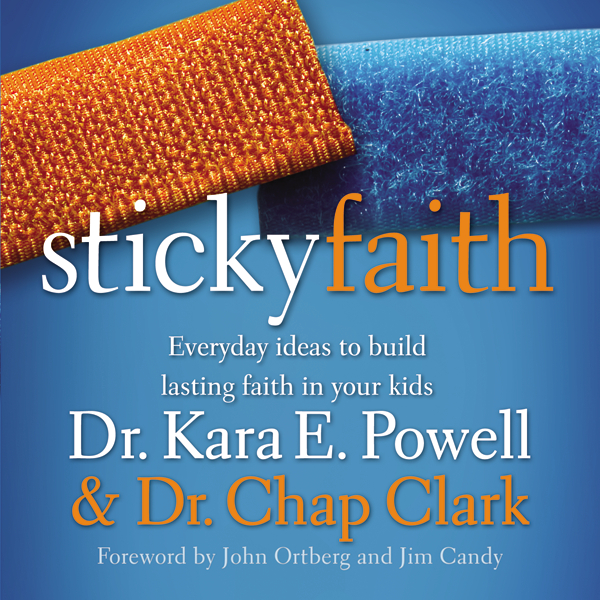 Today I had the privilege of sitting in on a seminar with Kara Powell (Executive Director of the Fuller Youth Institute and author of the book "Sticky Faith") about why around 50% of church-going teenagers walk away from the faith when they graduate from high school and move on to college.
I will be writing a few different posts about our discussions later this week (it's a 3-day seminar), but for today here is a thought that crossed my mind: LEAD YOUTH WORKERS AND THEIR VOLUNTEERS NEED TO BE THINKING THROUGH THESE CONCEPTS.
If you are a lead youth worker, I would encourage you to head over to www.stickyfaith.org and purchase some copies of Kara's book for you and your volunteers. Reading this book with your leaders would be a great way to spark some great discussion, develop your volunteer leaders and strengthen your existing student ministry.
Stay tuned this week for more thoughts on building a faith that sticks with our teenagers! Also, be sure to join us this Thursday @ 12PM (PST) for episode #3 of the YOUTH MINISTRY HANGOUT . Our topic will be all about teenage discipleship and how we as youth workers can help students grow spiritually.