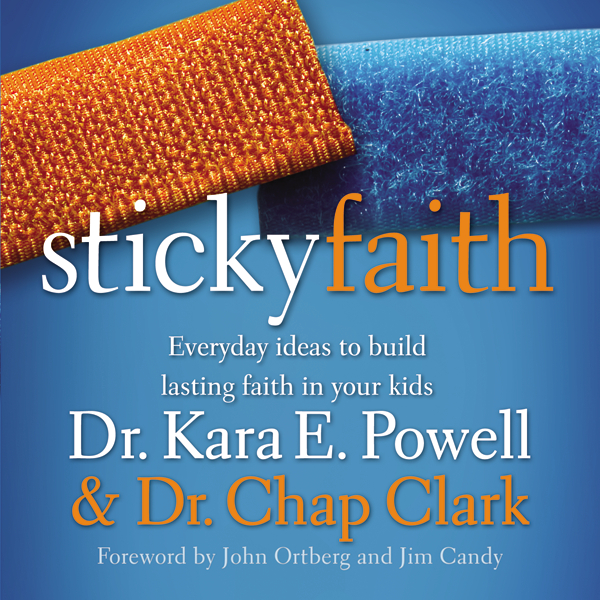 Today I had the privilege of sitting in on a seminar with Kara Powell (Executive Director of the Fuller Youth Institute and author of the book "Sticky Faith") about why around 50% of church-going teenagers walk away from the faith when they graduate from high school and move on to college.
I will be writing a few different posts about our discussions later this week (it's a 3-day seminar), but for today here is a thought that crossed my mind: LEAD YOUTH WORKERS AND THEIR VOLUNTEERS NEED TO BE THINKING THROUGH THESE CONCEPTS.
If you are a lead youth worker, I would encourage you to head over to www.stickyfaith.org and purchase some copies of Kara's book for you and your volunteers. Reading this book with your leaders would be a great way to spark some great discussion, develop your volunteer leaders and strengthen your existing student ministry.
Stay tuned this week for more thoughts on building a faith that sticks with our teenagers! Also, be sure to join us this Thursday @ 12PM (PST) for episode #3 of the YOUTH MINISTRY HANGOUT . Our topic will be all about teenage discipleship and how we as youth workers can help students grow spiritually.
The 5-minute countdown began to fill the projector screen. My students had already piled into the room and everything seemed to be in order. Music was playing, students were laughing, and the smell of pepperoni pizza and jr. high boy was in the air (not exactly a pleasant aroma, but an aroma none the less!). It was looking to be a regular night at our church's youth group. Everything was ready to go: I had the lesson all planned, the games selected and the sound system cranked up. Absolutely everything was where it was supposed to be…everything that is, except for one crucial element…my volunteers!

With only 5-minutes to go before the start of the program, not one of my youth ministry volunteers were anywhere to be seen. So of course I did what any intelligent youth worker would do in this complex situation…I panicked! My mind raced with about a million thoughts at that moment: "what am I going to do?", "how am I possibly going to be able to pull this off?", "Should I leave too? I mean, if I slip out of the room, no one will even know that I was here!". What happened next was one of the most stressful and cray moments in my youth ministry career up until that point. It was at that moment that I realized clearly what I would have to do…EVERYTHING! It was as if in that moment I had become the poster boy for the slogan "do it yourself!" I had to do it all. And when I say that I "did it all", I literally mean that I did it ALL! I led worship, ran the games, gave the announcements, did the skits, taught the message, facilitated  the small groups and cleaned up when everything was all done. There is only one thought that comes to mind when I think back on that fateful night at youth group: now I know exactly what hell must feel like!

After all of the students had gone home and the youth room was put back in order (and by "put back in order" I mean "after I peeled leftover pizza off of the ground"),  I collapsed onto the couch in my office and exclaimed to God: "that's it…I give up! You've got the wrong guy! I didn't sign up for this. You don't need a youth pastor to do this job, you need Superman!" It was in that moment that I had experienced my very first brush with one of the biggest youth ministry mistakes that we can make as youth workers: DOING YOUTH MINISTRY ALONE!
Maybe your reading this post and the story above seems all to familiar. Perhaps you are a youth worker who is used to doing things all by yourself. You might even have a running joke with your ministry friends that you are the "jack of all trades" at your church (you run music, design graphics, teach, lead worship,run games, juggle chainsaws, etc). Maybe you've tried to find volunteers to serve with you in your ministry, but after failed attempt after failed attempt, you have decided that it's easier if you just do things by yourself. But here's the problem: you were never meant to do youth ministry on your own!

Doing youth ministry alone lends itself to all kinds of problems, the first of which is rapid burnout! We might be able to fool ourselves into thinking that we can do it all, that we can take on everything that comes our way, but the truth is that we are human, we have weaknesses and we can grow tired and drained when we attempt to do TOO MUCH. I can't tell you how many friends I know that are no longer working in youth ministry because they simply got too burned out from trying to accomplish everything that needed to get done on their own steam. In fact out of five close friends of mine, all of whom started out in youth ministry around the same time as me, only two of us are still working as youth pastors! The rest of them have taken on far less stressful jobs like professors, insurance salesmen, lawyers and the like (this is the part where you laugh at my super funny joke).
Yesterday my friends
Dennis Beckner
,
Nikkie Schuster
and I got together for the first episode of the
YOUTH MINISTRY HANGOUT
. We chatted about youth ministry, life and Chewbaca from Star Wars. Here's the point:
YOU NEED TO GET CONNECTED!
Ask yourself the question "do I have any youth ministry friends to help share the load…or am I doing this all on my own?" Don't do youth ministry on your own. Join a local network of youth workers and get plugged in. Recruit some volunteers that you want to do life with in your church. It's time to
GET CONNECTED!
If you want to get to know other youth workers just like you or chat about your youth ministry, join us Thursday's at 12PM (PST) for the YOUTH MINISTRY HANGOUT! Also check out episode #1 of the YOUTH MINISTRY HANGOUT for more thoughts on connecting with volunteers and building a youth ministry team.
Are you a youth worker on a small budget? If you don't have someone to make graphics/videos for your services, you might want to consider grabbing a subscription to Adobe Creative Cloud. For a cheap subscription you can use all the Adobe software without having to purchase the entire suite.

Here's my idea:

1) Get an adobe creative cloud subscription

2) Grab a student in your youth ministry who loves creative arts

3) have them come in during the week and design you your graphics/videos/etc. while they get to learn on the best software out there.

Could be a huge win for your youth group & a great way to plug students into ministry. Let me know your thoughts!
No matter how long/short you have been working in youth ministry, there is one hard and fast rule that always remains the same: NEVER DO YOUTH MINISTRY ALONE! If you are a youth ministry veteran then you learned this rule long ago. But if you are brand new to the youth ministry game, let me save you some burnout/hair-loss by letting you in on a big secret: THE YOUTH MINISTRY THAT WORKS IN ISOLATION…JUST DOESN'T WORK! It doesn't matter if you think you can do it all (play guitar, speak, grow a patchy go-tee) your youth ministry will never be as strong/effective as it could be if you brought others along for the ride. 
Recently my wife and I were reminded of this just this past Sunday. We recently transitioned into a new church (www.daybreakchurch.org) where I now serve as the jr. high pastor. This weekend was our first weekend encountering the Sunday morning service. 9:30AM rolled around and students started to pour into the youth building. Actually let me clarify that a bit…ONLY students were pouring into the youth building. The volunteers were no where to be found! Now I'm sure that my brand new volunteers were off taking care of some super urgent tasks like helping old ladies to cross the street, evangelizing at the donut shop or something important like that, but the reality was that we were left to fend for ourselves!
We scrambled to get the projector turned on, we fumbled over how to turn on the microphones…I was so anxious by the time the service started that I felt like switching to a slightly less stressful vocation…I don't know…like street luging or heli-skiing! Needless to say the service turned out great (and my new volunteers got there eventually) despite a few kinks. But here's the point, youth ministry is so much more effective within the context of a team. What's so important about building a strong youth ministry team? Here are just a few WINS from working together: 
1) A team of youth workers are always stronger than the individual youth pastor.
2) The more people involved in the planning/development of your youth ministry, the more creative & unique it will become!
3) A team guards each other from burning out. 
The last few days I have been spending the majority of my time since I've started my new role investing & inviting in new youth ministry leaders. Why? Because when you have a healthy youth ministry team, the health of your youth ministry will increase exponentially! What about you? How does your youth ministry run? Does your youth ministry center around one person or many? Share your thoughts by leaving a comment below!
Pax, 
Rob
As I blogged about earlier last week, I really love working with a team. Youth ministry is so much better when you get to work collectively with a group of like minded youth workers to impact students lives for Christ in amazing ways. But how do you care for those volunteers/staff/leaders who work with you in your youth ministry? How can you help prevent volunteers from burnout, boredom and eventually bolting from your ministry? Three words: BE A BARNABAS. 
Lately I've been reading through the book of Acts and today read this passage about what was happening in the early church: 
"All the believers were united in heart and mind. And they felt that what they owned was not their own, so they shared everything they had. The apostles testified powerfully to the resurrection of the Lord Jesus, and God's great blessing was upon them all. There were no needy people among them, because those who owned land or houses would sell them  and bring the money to the apostles to give to those in need. For instance, there was Joseph, the one the apostles nicknamed Barnabas (which means "Son of Encouragement"). He was from the tribe of Levi and came from the island of Cyprus. He sold a field he owned and brought the money to the apostles." (Acts 4:32-37 NLT)
I love this passage. The early church was passionate and bold about sharing the Gospel of Jesus and growing the church. They had witnessed the resurrection of Jesus first hand and had personally experienced the power of God's Holy Spirit. And what was the result? They got busy doing ministry. They began to share their possessions and help those who were in need. And then we get a quick glimpse into the man named Barnabas. Barnabas genuinely loved Jesus and loved the Church and he was willing to go above and beyond to share Jesus love with those around him. In fact Barnabas' real name was Joseph, but his name was changed into Barnabas which means the "Son of Encouragement"! 
If you want to build a healthy youth ministry team than as lead youth workers we NEED to be ENCOURAGERS! Whenever you feel like you have encouraged your team enough…just keep at it! I've never met a single person in the entire world who has ever said, "hey, buddy, please stop encouraging me. All you ever have is nice things to say about me. Can you treat me a little more badly please??". That just doesn't happen! Everyone wants to be encouraged. So here are just some ideas about how you can be an encouragement to your youth ministry volunteers: 
1) Send them a handwritten note highlighting why you value their ministry. 
2) Email your volunteers an encouraging email. 
3) Purchase an inexpensive "bowling trophy" and present it to a volunteer who has gone above and beyond lately. 
4) Buy your volunteers a piece of their favorite candy. 
5) Post an encouraging note on your volunteer's FACEBOOK wall.
6) Take your volunteer team out to lunch. Don't talk about youth ministry, just treat them to free food!
7) Invite your youth ministry volunteers over to watch a movie or a tv show. 
8) Pray for your volunteers!
9) Ask your volunteers if there is anything you can do to lighten their load. SERVE your volunteers!
10) Give your volunteers some time off. Surprise them with a FREE weekend that they can just relax!
Notice that all of these ideas are super cheap and easy! Even if your church doesn't have a big budget you can be a great "BARNABAS" youth worker to your volunteers! So get ready, on your mark….get set….start encouraging! 
Pax, 
Rob
Every seasoned youth worker knows that a youth ministry is only as healthy as the volunteers that run it. You can have great programs for students, build awesome outreach events and hold amazing camps but without a solid volunteer team, your youth ministry will never reach optimal health/growth. Because the reality is NO YOUTH WORKER IS AN ISLAND! You can't do it on your own. One person can only effectively minister to a handful of students. You need a team of caring adults to work alongside with or your youth ministry will never reach it's full potential. 
So how can you really build a strong/healthy adult volunteer team? How can you create unity and solidarity among the volunteers in your ministry? While there are MANY ways to build health/unity within your adult leader team, here are FOUR SIMPLE WAYS TO CARE FOR YOUR YOUTH MINISTRY VOLUNTEERS: 
1) Spend quality time with your volunteers. Never underestimate the power of a cup of coffee! One of the best ways to build strong volunteers is to simply invest time into building relationships with them. Take them out to eat, invite them to catch a movie with you, toilet paper a students house together….you get what I mean. As best as you can, work at converting your VOLUNTEERS into FRIENDS. 
2) Give your volunteers ownership in your youth ministry.  Try inviting your adult leaders to be apart of the design/development portion of your youth ministry. Let volunteers come up with game ideas, empower them to own portions of your weekend program. Maybe you can even have your volunteers teach every now and then. The more you entrust leadership roles to your volunteers the quicker they will change from VOLUNTEERS into MINISTERS. 
3) Be a voice of encouragement to your volunteer leaders. We need to constantly be a voice of encouragement to our adult leaders. We should act as their cheerleaders as they continue to sacrifice their time/energy/sanity while caring for the students in our ministry. Send them a postcard, an encouraging message on Facebook, or an encouraging text message. I've never heard any leader tell me "hey knock it off! Stop encouraging me already!". 
4) Equip your youth ministry volunteers for success. A big part of our responsibility as youth workers is to equip our youth ministry volunteers with the training and resources they need to succeed. I don't know if there's a "magic number" of how many times a year you should be training volunteers, but we need to make sure that we make it a point to encourage our leaders to keep on learning. Take your team to a conference, read a youth ministry book together and discuss it. Maybe you can watch a youth ministry training video together at a leaders home. Remind your volunteers that the minute they stop learning they stop leading. 
What sort of things do you do in your youth ministry to care for your volunteer leaders? Share your thoughts/ideas by leaving a comment below!
Pax, 
Rob
This week I received a great email from Travis Walker who is a  youth worker in Michigan. Travis asked some great questions, so I decided to post my answers below.
Travis: Rob, if you were to start all over and start today creating a middle school program, what would be your top 5 "musts"?
Rob: Having worked in youth ministry for about 10 years now, there are definitely a bunch of things that I have learned over time that I would loved to have known when I first started out in youth ministry. Here are my top 5 "musts" for youth workers who are just starting out:

1) KNOW YOUR DESTINATION. Having a purpose/mission statement as you begin your youth ministry is vital. When I started at my first youth ministry job, I felt the pressure to create great programs and events for students. I would spend hours and days working on creating awesome looking events/Bible studies/programs in student ministries, but the problem was, at the end of the day I didn't know where it all was heading. Having a clearly defined purpose/mission statement for your ministry allows you to create a solid strategy for creating disciples out of your students. Having a purpose statement also makes your youth ministry seem more professional. You will have much more buy-in from parents/staff/volunteers if you can clearly articulate the reason that your youth ministry exists. I can't stress enough the importance of knowing your purpose and destination. You can't reach a destination that doesn't exist!

2) DON'T DO YOUTH MINISTRY ALONE. It is easy for us who are lead youth workers to fall into the trap of "doing it all by myself". Most of us have an idea in our heads about how things should look/run/feel in our youth ministries. It can be hard for us to give up control and let other people take the reigns on things. But the truth is this: YOU CAN'T DO IT ON YOUR OWN! One person can only minister to about 6-8 students. If you want to grow your youth ministry you need to bring other people into the work. We need to spend a significant amount of time equipping/empowering/encouraging the volunteers in our ministries to take ownership of the youth ministry. Our job should be that of turning "volunteers" into "shepherds". Volunteers should be running games, leading worship, teaching, leading small groups, making graphics, planning events….just remember, YOUR YOUTH MINISTRY IS ONLY AS STRONG AS YOUR VOLUNTEERS!

3) LEARN FROM OTHERS. If we are leaders in youth ministry then we need to continue to learn. The moment we stop learning is the moment we stop leading. We have to remember that we don't know it all! There are youth workers out there who have more knowledge then we do on a variety of subjects and we have the responsibility to learn as much as we can. Go to youth ministry conferences regularly, read books on youth ministry, meet with local youth pastors in your area. As soon as you begin to think you've learned it all, your youth ministry will cease to grow healthy.

4) LEARN TO SAY "NO" TO THINGS. If you are working in youth ministry you will constantly be bombarded by tons of well intentioned people who think they know what's best for your ministry. People from your church will come up with events that they think you should have for students. Parents will constantly be asking you to change programs around to meet their needs. Ministries in your church will always be asking you for free "student labor" (the classic, "I think it would be a great idea if you had your students come and clean up garbage after our adult prayer meeting event.") :D Now it's not that any of these things are bad in and of themselves. In fact, some of these are really good things! But just remember that whenever you say "yes" to something, you inevitably are saying "no" to something else. This is why having a purpose statement is so important. You can use it often as a litmus test to see whether or not a proposed project/program/event fits into the overall purpose of your ministry.

5) YOUTH MINISTRY=PARENTS+STUDENTS+VOLUNTEERS. This is one of those things that even seasoned youth workers have trouble with. What exactly is the correct amount of time that needs to be spent with students, parents and volunteers? I'm not sure that there is really a "magic number" in terms of your delegation of time with these groups, but I do know for certain that it is VITAL to spend intentional time with each of them. If you only focus on one of these groups, your youth ministry will never be healthy. You need to be very intentional with putting care into the parents, students and volunteers in your ministry.
Travis: Any other thoughts that you have for a guy at the very beginning? 
Rob: I guess I would always remember that as youth workers we need to teach/share out of the overflow of our lives. Basically what I mean is that we can only share what we already know/experience ourselves with students. We can't teach students that they need to read the Bible every day if we are not doing it ourselves. We can't expect our students to commit to a life of prayer if we are not men/women of prayer in our own lives. Really, as youth workers, the most important thing to focus on is loving Jesus with everything that we've got. If our focus is on him and seeking after him in everything we do, He will bless our youth ministry because of our obedient hearts. When we are connected to Jesus as our source, He will in turn overflow into the lives of our students. There is an old song by Geoff Moore called "Overflow" and the lyrics read:

Let the river run wild and free,
the river of Your love for me.
Fill my heart and my soul,
till I overflow.

I've got a story to tell,
and I am learning
You've got a story as well, 
flowing through us
making us who we are.

And just like a river that runs,
the story of Jesus comes,
into our hearts, so that we can know
a love so great, it will overflow.

Let the river run wild and free,
the river of Your love for me.
Fill my heart and my soul,
till I overflow.

This is the time to be real,
this is the time for courage.
Time for going deeper still,
for letting go into His will.

Let the river run wild and free,
the river of Your love for me.
Fill my heart and my soul,
till I overflow.

Overflow, let me overflow.
Fill my heart and my soul.
Let me overflow,
let me overflow,
fill my heart and my soul,
till I overflow.
"Weekend Leader Kinnect!" Last night we held a "connect" night for our jr. High weekend volunteers. Best. Night. Ever.