iheartyouthministry.com- Youth Ministry Blog
Jun 26
Intergenerational Youth Ministry
Today I sat in on part two of Kara Powell's Sticky Faith seminar based on her book "Sticky Faith: Practical Ideas To Nurture Long-Term Faith In Teenagers" and it got me thinking about my own youth ministry experience as a student growing up. When I was in jr. High and high school my experience of youth ministry was very different from what most youth ministries look like around the country today. Here is a snapshot of my experience of youth ministry as a teenager:
YOUTH MINISTRY OCCURRED ORGANICALLY EVEN BEFORE A FORMAL PROGRAM WAS INTRODUCED. Growing up, my church was not a large church. My church growing up wasn't even a medium sized church. My church growing up was small! In fact, on our biggest day I think we tapped out at about 150 people. What I remember most about my old church was that it was one big family. We knew everyone in our church. Our friends were all from church. Our families all hung out and took trips together. And I remember learning about Jesus from a variety of different adults in our congregation from all walks of life. Even though we had no formal "youth ministry program" at first, our church welcomed teenagers as a real part of their community. We would go to the adult services with our parents and attend all-church BBQ's together as one big community. Relational youth ministry naturally occurred because the adults in our congregation knew that it was their responsibility to care for, mentor and disciple the teenagers in the congregation.
YOUTH MINISTRY PROGRAMS NEVER BECAME A SUBSTITUTE FOR BEING ACTIVE IN THE LARGER CHRCH COMMUNITY. Eventually we had a youth program at the church, but these programs (midweeks, bible studies, etc) never became a "para-church within a church". Teenagers didn't have separate mission trips from that of the larger church, we just came with the adults on church wide trips. We didn't have a bunch of separate fellowship events apart from the adults, but instead joined with the larger church to experience everything as one big church family.
In the Sticky Faith study, Kara and her team discovered that about 40-50% of youth group attending teenagers end up walking away from the faith after they graduate high school (click here for more information). At Sticky Faith, they postulate that perhaps one reason students leave the church after high school is because they were never really apart of the larger church, but instead have been segregated from the rest of the church by creating youth ministry programs that separate teenagers from the rest of the congregation. So what does this mean for our current youth ministry programs? Does this mean that we need to abandon current youth ministry models/programs or stop doing youth ministry all together? I don't think so at all…BUT…I do think that as youth workers we need to find ways to build an intergenerational model into our church's DNA. Here are some practice ideas:
1) Have an adult men's small group at your church invite the 6th grade guys over for a BBQ one night.
2) Ask your women's ministry leader to sponsor a "Girl's Night Out" event where they invite the high school girls to join them for a fun activity with the other adult woman at your church.
3) Grab a few students from the youth ministry and have them help lead worship on a Sunday morning
4) Create a family event at your church where teenagers and adults can have fun and fellowship together as one big community.
5) At your church's next men's retreat, have the adults invite the jr. High or high school guys to come with them and learn/grow together.
What about your church? What simple things could you do to build an intergenerational model into your current youth ministry DNA? Share your ideas in the comments section below!
Jun 25
Youth Ministry Book Highlight: "STICKY FAITH"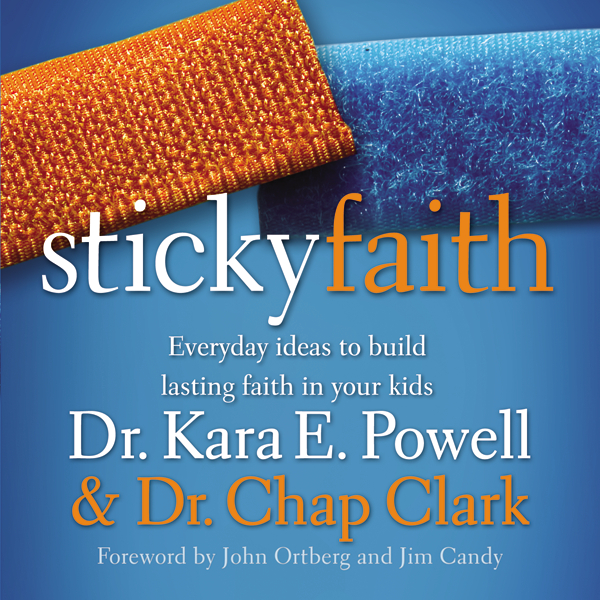 Today I had the privilege of sitting in on a seminar with Kara Powell (Executive Director of the Fuller Youth Institute and author of the book "Sticky Faith") about why around 50% of church-going teenagers walk away from the faith when they graduate from high school and move on to college.
I will be writing a few different posts about our discussions later this week (it's a 3-day seminar), but for today here is a thought that crossed my mind: LEAD YOUTH WORKERS AND THEIR VOLUNTEERS NEED TO BE THINKING THROUGH THESE CONCEPTS.
If you are a lead youth worker, I would encourage you to head over to www.stickyfaith.org and purchase some copies of Kara's book for you and your volunteers. Reading this book with your leaders would be a great way to spark some great discussion, develop your volunteer leaders and strengthen your existing student ministry.
Stay tuned this week for more thoughts on building a faith that sticks with our teenagers! Also, be sure to join us this Thursday @ 12PM (PST) for episode #3 of the YOUTH MINISTRY HANGOUT . Our topic will be all about teenage discipleship and how we as youth workers can help students grow spiritually.
Jun 24
When Students LEAD…They Don't LEAVE!
One of my favorite parts of working in youth ministry is seeing students step up to the plate and begin to serve. I love watching jr. high and high school students discover their gifts and then use them to serve the church in a variety of different ways. At IGNITION (Daybreak Church's Jr. High Ministry) one of our core values is having students lead the ministry. We really value having student-led ministry teams, and a great set of student leaders. 
On a typical weekend service, we have students on stage giving announcements, running the tech booth, greeting at the doors, leading worship and more! It is so cool to see, and the best part is, when students LEAD…they don't LEAVE! The truth is that when students begin serving in your youth ministry it creates a real sense of ownership in our teenagers. They stop sitting and soaking and start leading and learning. 
So how do you shift from a environment where the staff & volunteers run everything (where students are spectators) to an environment where your teenagers help lead (where students are servants)?
START SMALL AND TRUST BIG! First things first. You need to start small. Begin by having some of your students serve in little ways. Ask a couple of students to help set up chairs before your service begins. Have a few students pass out pens and outlines as other students arrive. Maybe you could call up a student in the middle of the week and ask him/her to go pick up supplies with you for your youth ministries' mid-week or weekend program. You don't have to create a complicated student leadership strategy right away. Just start small and trust that God will start to develop a servant's heart in your students lives.
DREAM BIG AND PLAN SMALL. We all want our students to grow and to take that "next step" towards spiritual maturity. One of the most effective ways for students to grow spiritually is to begin to serve in ministry. Take some time to dream big and ask God what His vision is for your youth ministry. Then ask the question, "how can our students help us achieve the goal/dream that God has given us?" Start to create a strategy to develop your students into servant leaders. Once you have your strategy mapped out, take it one step at a time! Don't try and do something in 2 weeks that will probably take 2 years. While it might be ideal to have students running a ton of elements in your programs, don't rush the process. Again, start small and realize that the character quality of servanthood doesn't develop overnight! 
Jun 23
IGNITION Weekend In Review 6/17/12
Series: "Welcome To The Middle"
Title: 6th Grade Weekend
Sermon In A Sentence: Now that you know all about our jr. high ministry, you need to ask yourself "where can I PLUG into the PLAN?"
MESSAGE SUMMARY: This past weekend at IGNITION (Daybreak Church's Jr. High Ministry) was our promotion Sunday where we received all of our brand new 6th graders. We had a ton of fun with this weekend service. We played with the concept that "all the best stuff happens in the middle" (i.e. Oreo cookies, stuffed crust pizza, etc.) to get our new students excited about entering middle school. In terms of the message, I basically walked our students through our summer calendar while highlighting which programs they needed to come to that would correspond to one of the purposes of our ministry (worship, discipleship, evangelism, ministry, fellowship).
WORSHIP PLAYLIST: "Our God", "Your Love Never Fails"
Jun 22
How to build a youth ministry program
Yesterday on episode #2 of the "YOUTH MINISTRY HANGOUT" Dennis, Nikkie, Peter and I discussed the most important aspects of building a youth ministry program. Specifically we were asking the question, "how do I plan my youth program?" whether that is a midweek service, weekend service or even small groups. Here are the BIG THREE IDEAS we came up with during the show:
1) KNOW WHAT YOU HAVE! Are you a small youth ministry or a large youth ministry? Do you have very few volunteers or do you have a ton of adult volunteers? What is your youth ministries' budget? What resources do you have available? These are very important questions to ask if you are the lead youth worker because they will determine your plan & strategy in your process of developing what your program looks like. For example, if you are starting out with just a handful of students, your role as the lead youth worker will have to be that of an evangelist and recruiter. If you are starting out with a ton of students your role may be more as a shepherd and manager right off the bat. What you have will determine what you need to do next.
2) BUILD PROGRAMS THAT BUILD RELATIONSHIPS. Right now summertime is upon us. Use this time as a tool to bring students and leaders closer together. Plan some fun days, beach outings or theme park trips. Build relationships into your programs. On a midweek or weekend program this could be as simple as adding 10 minutes into your program where students can check in about their week and get to know their leaders and peers. We can't compete with video games and theme parks as far as fun is concerned, but your youth ministry should be known for being the place where real authentic friendships occur.
3) DONT DESIGN YOUR PROGRAMS ALONE…GET A TEAM! I talked about this earlier this week, but I can't stress enough the importance of building a team to plan your programs with. Don't be a solo act! Resist the urge to build your programs alone. We are better together! As you are planning your summer calendar, grab some volunteers and or student leaders and let them plan the events. Trust me, it's worth it!
Jun 21
YOUTH MINISTRY HANGOUT #2
YOUTH MINISTRY HANGOUT Today!
Jun 20
[video]
Jun 19
Youth Ministry Idea: "Photo-booth"
Here's a quick/fun idea for your next youth ministry event. A couple of weeks ago we set up a simple "photo booth" station in our jr. high service where students could take free pictures of themselves and their friends as we finished up our series on friendships/dating. 
After their picture was taken we had a volunteer edit/touch up the photos and then we gave them away the following weekend for students to take home. It was a big success and I'm sure we will be doing it again soon. Hope this was helpful!
Jun 18
Youth Ministry Resource: "SYM Tools"
This is probably one of the COOLEST and most USEFUL youth ministry resource that I could point you to. SYM Tools does it all! Here's some of the features: 
-create your own youth ministry rolodex of students/volunteers
-recruit new volunteers via online applicaitons
-communicate via text blasts to your students
-watch hours of solid youth ministry training from my friend Kurt Johnston.